Becoming a parent is one of the hardest jobs you'll ever do. Endless nights, long hours, never-ending stress, the list goes on. But parenting is definitely one of the most rewarding joys in life.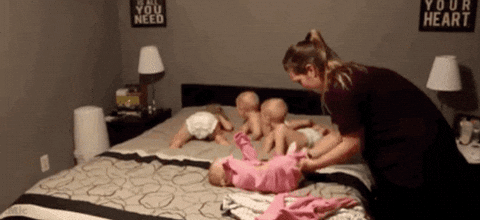 Parenting definitely has a lot of it's high moments.
But it also has its lows. And for that, some parents are turning to cannabidiol, or CBD, a marijuana extract that users say helps curb anxiety and induce relaxation — without the high of smoking pot.
Unlike THC, CBD doesn't get you high. It does however, have all the benefits of the hemp plant.
Whether you've just brought home your first newborn or have several kids already, you are going to go through the same struggles of every parent before you. As a new parent, or as a mom or dad of children at any age, you might be feeling:
Sleep-deprived – 30% of adult U.S. population suffer from Insomnia and 10% from chronic Insomnia, making it the most common sleep disorder.
Overwhelmed
Constantly worried about your child's health and happiness
Self-conscious about your home, health, and body
Missing some of the care-free days you had before motherhood
Potentially missing the closeness you had with your partner before parenthood – they even make a CBD oil specifically for the bedroom.
If any of these ring true, you may want to research the benefits of CBD. Cannabidiol is a phytocannabinoid found in cannabis and hemp plants. It is extracted from the plants as an oil or concentrate, and can be used to reduce anxiety, aid with management of depression, reduce pain, and improve overall mood. This powerful supplement may be able to alleviate some of the stresses of parenting in a healthy, natural way.
CBD for Anxiety, Stress, and Overall Well-Being
Parenting is often described as an experience of great joy, and even greater responsibility. However, some days are worse than others. If you're predisposed to anxiety or other mental health issues, this stress may become overwhelming. Unfortunately, the most common treatment for stress and anxiety for Americans is the prescribing of benzodiazepines. These drugs are very effective in neutralizing your mood, but they come with a long list of potential side effects, including:
Nausea and dry mouth
Incontinence or trouble using the bathroom
Headaches and shaking
Paranoia, depression, and eating issues
Skin and complexion issues
Lack of appetite
CBD, on the other hand, can produce similar calming benefits without any of these harmful side effects. Plus, unlike benzodiazepines, CBD has not been shown to be an addictive substance.
While CBD is still in the early research stages for use as an anti-anxiety treatment, its use in recreational settings has proven to have a very positive effect.
CBD For Nights With Your Partner
Parents come to realize that a healthy sex life is even more important than it was before having kids. Caring for children can oftentimes take away the energy you used to have for intimacy with your partner. But, having that emotional bond is essential to restoring your inner wellbeing. To be a great mom or dad, you also want to have a loving and strong relationship that you can lean on in times of stress.
If you're struggling to make time or to have the energy for intimacy, CBD might help. Studies have shown that CBD helps to relax both the body and mind, which puts you in the right mood to initiate sex with your partner. In some studies, CBD has also been shown to help increase blood flow which heightens physical sensation and arousal. Both you and your partner can benefit from CBD with the right mindset.
Foria Wellness also makes a CBD oil specifically to heighten senses in the bedroom.
CBD for Sleep, Sleep Disorders, and Getting a Better Nights' Sleep
As a parent, you're almost certainly sleep-deprived. It takes a while for babies to develop a sleep routine, and in the meantime, you'll likely be on their clock rather than your own. When you do have the chace to rest, it can be hard to stop worrying and simply drift off. This is where the addition of CBD in your diet can help.
CBD in higher doses can make some people drowsy. It is not a sedative per se, but it will help you to relax, which in turn makes it easier to fall asleep. Studies have also shown how CBD can improve the homeostasis of your body's hormones, which is a vital element in regulating the circadian rhythm.
CBD for Postpartum Depression (PPD)
One of the most powerful ways CBD can be beneficial to mothers is in the management of postpartum depression (PPD). PPD is known to affect up to 15% of new mothers, and can cause devastating effects on family life in the first few months or year of parenthood. CBD has been used in research and as a supplement to improve one's mood and help fight depression. This mood-enhancing effect of CBD may translate to those struggling with PPD.
CBD helps improve mood because it is a re-uptake inhibitor of the neurotransmitter anandamide. This molecule is responsible for creating feelings of joy and calmness. When CBD is used it can increase the amount of anandamide in the brain. For mothers with PPD, this could be a game-changer for managing their daily lives.
Can I Use CBD While Pregnant or Breastfeeding?
Due to its novelty in the consumer market, few studies have been conducted on the effects of CBD for pregnant and breastfeeding women. It is known that THC, the other chemical found in cannabis plants, is very harmful to infants. However there is little evidence to assert whether the same is true for CBD. Consult with your physician before using CBD while pregnant or breastfeeding for the most accurate information.
If you are not currently pregnant or breastfeeding, CBD is an option that could improve your overall quality of life, and make motherhood just a little bit easier.
Conclusion
If you're a parent, we congratulate you on such a big undertaking in life. Raising a child is one of the most difficult challenges anyone can face but surely one of the most greatest joys too.
We hope that CBD can help you on this journey and we're here to answer any questions you may have along the way.
For more information about CBD, visit our Learn About CBD section or check out some brand reviews from top CBD sellers.