Throughout an astonishing NFL career that spanned nearly a decade that included three Super Bowl titles, four first-team All-Pro nods, and five Pro Bowl appearances—the superstar Rob Gronkowski was basically synonymous with "TD." The New England Patriots' chiseled 6-foot-6-inch tight end hauled in 79 touchdowns, including a league-high 17 in 2011.
After an August announcement in which the player announced a new partnership with Abacus Health Products which owns two sub brands, CBD Medic and CBD Clinic. But before we get into the details of Gronkowski's deal with Abacus, we wanted to help paint a portrait of one of the NFL's most gregarious (and productive) players in NFL history—including what lead to his abrupt retirement in March.
Dealing With Injuries, Aches, and Pains
During his prolific career, Gronkowski underwent nine surgeries and battled countless injuries as the weekly pounding he absorbed took its toll. Gronkowski missed his entire junior season at the University of Arizona due to back surgery, and later had surgery on his ankle, forearm, knee, and two additional procedures on his back. By his own admission, those injuries dealt a blow to more than just Gronkowski's body. They altered his mood, which ultimately sealed the deal to walk away from the game he loved.
Gronkowski spoke candidly in his Abacus press conference, addressing the fans clamoring for his return. "But I want to be clear to my fans: I needed to recover," he said in an Boston.com article.
"I was not in a good place. Football was bringing me down. And I didn't like it. I was losing that joy in life, like the joy. I really was. I was fighting through it. I knew what I signed up for. I knew what I was fighting through. I knew I just had to fix myself."
He talked about how he cried in his bed following New England's victory in Super Bowl LIII—but those weren't tears of joy, they were from the deep thigh bruise he received in the game that left him nearly immobile. The pain, he said, impacted his sleep habits for a month and resulted in him having a record-breaking amount of blood removed from the site over three different hospital trips.
Discovering CBD
There's no doubting that cannabidiol, also known as CBD, boasts an array of helpful benefits. As Gronkowski learned over the Fourth of July holiday, it's the compound's ability to relieve pain that makes it so enticing. The pain Gronkowski was trying to fight wasn't a brutal hit from a linebacker. It was an injury sustained in a backyard barefoot soccer game he was playing with his girlfriend and some friends over the holiday weekend.
The way Gronkowski tells it, his father Gordon offered him some CBD cream to rub on his jammed toes. According to Gronkowski, he got the type of instant relief he was looking for, and even went on to say he thinks using CBD could have helped the pain he dealt with on a regular basis as an NFL player.
The Partnership With CBD Medic
If you've seen Rob Gronkowski in the media recently, you'll notice the brand endorsements in all his interviews.
Needless to say, it appears Abacus is as happy to have Gronkowski on its team and vice versa.
As part of the endorsement deal, Gronkowski agreed to promote the products and received more than 300,000 subordinate voting shares in the business.
According to reports, he'll have the option to purchase more at $15 per share if he chooses. CBD Medic's pain relief products are designed to target several different activity levels, body parts, and conditions.
The entire line is hemp-based and devoid of any THC, the cannabis compound that causes the euphoric high associated with marijuana use.
Their products are also available at many CVS Pharmacies throughout the U.S.
Gronk's Endorsement
They say a rising tide lifts all boats, and it appears that Gronkowski's announcement could benefit other CBD purveyors in the New England area. A reporter from The Herald News in Fall River, Massachusetts, spoke with several shops in the area who said their CBD sales have dramatically increased since the Abacus-Gronkowski partnership news broke.
Though it appears to have been in the works prior to the Gronkowski endorsement, the story also reported that the Fall River Board of Health is imposing stiffer regulations on CBD retailers, beginning on Oct. 11. In order to remain on the shelf, the products sold must be from an approved source and licensed by the state's Department of Agriculture Resources or an equivalent.
Lastly, the products must pass approval from an independent lab that can confirm they don't exceed the 0.3% THC legal limit and are free of pesticides. An age restriction will also go into effect in October that places a minimum age of 21-years-old to buy edible CBD and hemp products.
CBD Medic Topicals
If you haven't read our CBD Medic review yet, please check it out! CBD Medic's topical products work brilliantly for all athletes and average Joes like some of us. Whether you're dealing with specific pains such as joint or knee pain or just want to reduce some common muscle soreness, these products are for you.
All CBD MEDIC products are produced in accordance with strict regulatory requirements in a cGMP compliant manufacturing facility to ensure high quality control standards. CBD MEDIC™ products are fully compliant with all federal laws and regulations.
Conclusion
Gronkowski are some of the latest athletes to come forward among a group of pros who are becoming more vocal about using CBD. Many athletes are picking up sponsorships from various CBD companies that are associated with sports like UFC, Crossfit, and more.
"I am here today to appeal to the sports governing bodies of the world to update their positions on CBD," Gronkowski said at the press conference. "It's just time."
Let's just hope the guy is as good at hauling in policy changes as he is touchdown passes.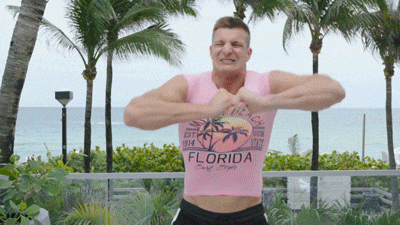 Save 10% OFF CBD Medic's Products Today!